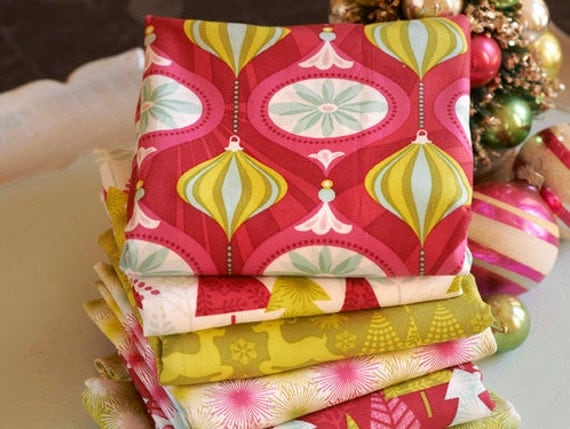 This lovely bundle of Hip Holiday fabric (from
Sew Love Fabrics
) arrived in my mailbox this week--my prize as being chosen as one of the Holiday Challengers at
Stitched in Color
.
(Thanks so much, Rachel!)
I'm making a throw sized Penny Patch Quilt, as a Christmas gift for some very special people in my family. This is such a fun and easy quilt to put together!
Here is my progress so far:
After seeing this photo, I have decided:
1. the solids have to go -- I need more low volume prints!
2. the lighting in my sewing room is terrible!
3. I need a much bigger design wall!
I'm going to need to put this quilt together in quadrants -- I'm thinking 4 quadrants, of 5 x 6 blocks each -- then I'll piece the 4 quadrants together. It never works for me to lay out quilt squares on the floor -- this little one has too much fun with my layout!
This car/tree print is my absolute favorite -- isn't it the best?!