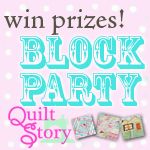 The first block is called 'monkey wrench." I used a pattern from an old Block of the Month club I participated in at my local quilt shop a few years ago. I'm not sure where these blocks are headed yet -- maybe into a quilt with lots of polka dot scraps?!
For the contest, I think I will enter it into the "traditional" block category, even though I used modern fabrics.
The next block goes into the "creative" category. I just love pennant quilts, and wanted to try free piecing to see if it would "work" -- rather than using machine applique like I usually do. It's a little crazy and wonky, but it was fun to just pull scraps, sew things together, and see how it looked! Here it is:
Scrappy Pennant Block
I couldn't resist, I just love Rick Rack!
I could put together a tutorial for either of these blocks, if anyone is interested!